We're coming into our fifth year with this team in Oklahoma City. I am curious to where former players are right now.  I'll never forget that roster. Inaugural starting five: Earl Watson, Kevin Durant, Jeff green, Nick Collison and Johan Petro. It's really crazy to believe this team was 3-29 at some point during that season. That said, I wanted to see where some of our former players had going on in their lives. Currently, only three players remain from that roster. Those three are Kevin "I like to score points" Durant, Russell "Honey Badger" Westbrook,  and Nick "I take charges like a BAWSE" Collison. This part two of three. You can read part one here.
#12 Nenad Krstic
Krispy as I called him was a unique player for the Thunder organization. Never did too much, but when he did something it was usually on the offensive end and was good. He wasn't exciting or really memorable. I remember him because a friend was obsessed with him. I kept telling them, be careful, he'll get traded one day. Didn't see this friend for a week after the trade. They were distraught.
Krstic was acquired after signing him off a Russian team back in 2010. The New Jersey Nets originally held his rights, but declined to match, and Oklahoma City had themselves a decent center. He was traded in February of 2011 with Jeff Green to the Boston Celtics and Nate Robinson.
He played bench minutes for a Celtic team that made the playoffs, but the Celtics during the lockout, decided not to re-sign Krstic. He then signed in Europe to play for CSKA Moscow. He led CSKA Moscow to the Euroleague final where they eventually lost to Olympiacos BC.
He's more well known for throwing a chair during he Acropolis International Tournament 2010. He spent the night in the police station. He was released the next day. Here's a video of the incident:
#22 Jeff Green
Man, welcome back to Thunder blogs Jeff Green. Uncle Jeff was definitely a fan favorite here in Oklahoma City. He started for three years, and I believe every game he was healthy for Oklahoma city. Fans cried when he was traded. I was elated. Not because I hate Green. I knew what we were getting in return.
We all knew Green played out of position and with this organization, he would never be playing his natural position. In Boston, he had more of a chance to become better at his natural position. (Side note: Green actually played the three, his natural position for part of his rookie year. Was moved to the power forward position midway through). While in Boston, his points were down, but he was much more efficient. That was the key. He shot a better percentage, and had less turnovers.
It's still an ongoing adjustment for Green. He averaged almost half the minutes he had while Oklahoma City. You have to remember, he's backing up a sure-fire first ballot Hall of Famer in Paul Pierce. They're grooming Green for the future of the Celtics.
As the lockout was ending, players were reporting to camp, getting physicals and that's when things went bad for Uncle Jeff. He was was found to have an aortic aneurysm, a ballooning of the major artery that carries blood from the heart to the rest of the body. He had surgery that possibly saved his life. Green missed the entire 2011-2012 season recovering from heart surgery.
While the Boston Celtics owned the rights to Green's contract, there are/and have been rumors that Boston have agreed to a new contract for Green, pricing out about 4-year $32 million. As of Sunday, August 19, Green hasn't actually signed a contract with the Celtics. There is talk that the "language" is holding it up. However, we really don't know what's holding it up.
#18 Mouhamed Sene
Before Nazr Mohammed, there was a different Mohammed. That was Mouhamed Sene. Sene was another bad draft pick by the Seattle SuperSonics organization. He was drafted 10th overall in the 2006 NBA Draft. He never really averaged more than six minutes per game.
The Thunder waived Sene in February 2009. Sene played the next two months in the NBA Development league in Albany, NY. While in Albany, he was named the NBA D-League's Defensive Player of the Year. He was picked up by the Knicks for the remainder of the 2009 season. He spent the last two seasons over in Europe.
While in Europe, Sene averaged 10 points per game, and little over 8.5 rebounds per game. His game fits much better in the European leagues.
Coach – P.J. Carlismo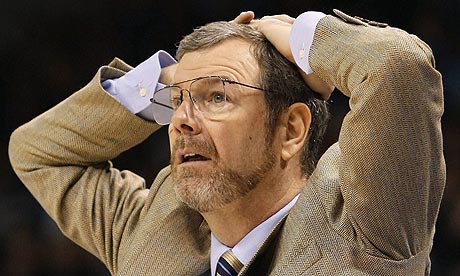 Last but definitely least in this Thunder revisit is perhaps the worst coach in Thunder AND Sonics history. Dude didn't want to be here. Didn't know how to talk to rookies. Was he afraid of being choked again? Maybe. Fact is, this team didn't respect him as a coach, and I don't think he respected his players as professionals. Carlesimo also developed a reputation as an "unrepentant screamer" in his first two NBA jobs at Portland and Golden State. After a five-year stint on Greg Popovich's staff, he insisted that he had learned how to develop relationships with players, but several sources insisted that as Sonics/Thunder coach he reverted back to the strident ways that precipitated the Latrell Sprewell attack in 1997. Sam Presti made the decision to axe the coach 13 games into the 2008-2009 season after an embarrassing 1-12 start.
After being fired from the Thunder, TNT hired Carlesimo to cover the 2009 NBA Playoffs. He also did some radio for Westwood One radio for the 2010 NCAA Playoffs.
He returned to coaching in 2010 as an assistant with the Toronto Raptors. He spent one season with the Raptors before not being retained for the 2011-2012 season. He has stayed in basketball. He's now an assistant for the New Jersey Nets. Same place where he spent last season. It was very uncomfortable watching him on the sideline during a Thunder-Nets game. Had to be awkward. I don't see it any other way.